Surprise Gift Awaits Embrace Education's Power!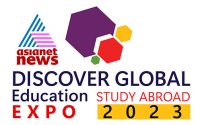 Surprise Gift Awaits Embrace Education's Power!
Mr.Abraham George Chairman & Managing Director
(Intersight Group of Companies) Receiving National Tourism Award 2016

Well- Established name in The Overseas Education Consultancy, Kochi, Kerala.
Intersight Overseas Education

belongs to the

Intersight Group of Companies

, a well-established leader in travel and tourism for over 26 years,
We are one of the best Overseas Education Consultancy, headquartered in Kochi, Kerala.
By providing guidance, facilitation, and training, we help young Indian minds identify and choose the best learning opportunities worldwide.
Intersight Overseas Education - Best Study Abroad Consultant, Kochi, Kerala.
Intersight overseas Education offers young aspirants for overseas education to get admissions at the most reputed educational institutions across the globe, and at the same time offer esteemed Universities, a reliable, trustworthy, and reputed service partner who can offer a cradle to grave guidance service to international students in India. The strong links we have, with colleges and Universities, put us in a unique position to select high-quality students.
Intersight has offices in all major Indian cities including Delhi, Mumbai, Chennai, Bangalore, Kolkata, Ahmedabad,  Lucknow, Indore, Chandigarh, Trivandrum and Hyderabad, besides our registered Head Office in Kochi and overseas offices in the UK, Canada, Australia and Bulgaria. We believe that travel, tourism, and overseas education for young aspirants have a close correlation and interplay because each of them brings people and communities together and reinforces cultural understanding and universal brotherhood.
We can give best facilities for your international Education
We are Excited to share client's review.
Jose Dominic
Founder CEO, CGH Earth
Congratulations Johny. As you pass the 25 year milestone you can have the satisfaction of seeing your enterprise at lead position. Wish you similar achievement in the milestones ahead . Best, Jose
Dr. Venu Vasudevan
Additional Chief Secretary -Tourism, Cultural Affair and Higher Education, Govt of Kerala
Hearty congratulations to Johny and team Intersight! Over the years, I have watched the company grow and expand it's operations, thanks to Johny's hard work and vision. And I've observed Johny develop into an outstanding and passionate leader and ambassador for the sector. Here's wishing you the best for the next phase!
Studying abroad can be a life-changing experience, but it can also be expensive. If you're an international student looking to study abroad, there are a number of scholarship opportunities available to help you finance your education. Where to find Scholarships…
India and France have recently signed an agreement that will allow Indian students who have completed their studies in France to stay in the country for up to 5 years. This is a significant increase from the previous limit of…
Denmark has decided to relax its work visa rules to attract more foreign workers, foreign students and non-EU workers to the country. Due to a severe labour shortage which took place due to the COVID-19 pandemic, the Danish Government has…